HOLIDAY HOURS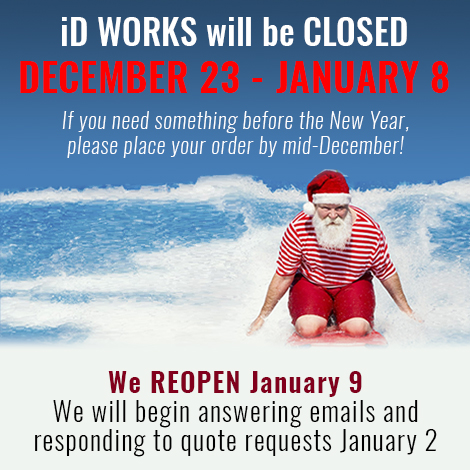 Brr, it's starting to finally feel like winter here in sunny Santa Barbara! Please take note of our holiday hours and office closures for 2016.
We will be closed November 24 – 27 for Thanksgiving
We will be closed between December 23 – January 8
Orders placed before December 23 will still be completed and available to pickup before the end of the year.
We officially reopen on January 9
We will begin checking our emails and sending quotes starting January 2nd, so we can get a head-start on organizing your order details.
TURNAROUND TIME
The holiday season is closing in, which means we're preparing for our busiest time of the year!
Please give us 2 weeks to produce orders in December.
With the hustle and bustle of end-of-the-year orders and last minute gifts, you can expect our average turnaround time to increase in December.
If you need something before the New Year, we recommend placing your orders by mid-December.
GIFT IDEAS
If you are looking for fun holiday gift ideas, we offer a variety of cold-weather gear ready to be customized.
Fleece vests and soft-shell jackets make great company gifts
Keep your employees warm with hoodies and beanies
For family and friends, we carry a selection of robes, pjs, tote bags, and more
We offer custom monogram and name embroideries for a nice personal touch
Don't forget, we embroider stockings!
Click here for ideas from our winter catalog
Our full apparel catalog can be found on this page.
This information can also be found on our yearly newsletter:
http://eepurl.com/coSNr5