What Can Be Embroidered?
Some of the common items we see passing through our shop for embroidery are hats, polo shirts, fleeces, soft-shell jackets, towels, backpacks, blankets, even stockings! If we can run it through our machine, we can embroider it.
You can bring in your own apparel.
Keep in mind that we are not responsible for damages to your apparel caused by machine mishaps or power outages.
If you do not have your own apparel, check out our online catalogs to see what we have in stock.
There are some limitations to keep in mind:
We cannot embroider through cardboard, thick leather, or vinyl
If you want a design on a pocket, we need to be able to fit our hardware into the pocket itself so that it does not get sewn shut
If you have something like an umbrella or chair you want embroidered, we will need to completely remove the fabric from the frame
We cannot achieve true color gradients, and have to simplify fades and shading
The maximum size we can embroider is 17″ wide x 17″ high
We cannot embroider text smaller than 1mm wide x 4mm high
To see examples of what we can and cannot do, please click here
We may charge extra for:
Bulky material, like heavy-duty duffle bags or Carhartt jackets
Fuzzy material, like terry-cloth or faux-fur
Metallic thread colors
Text Size
One of the most common alterations we need to make to artwork before creating an embroidery file is text size.
We are unable to embroider letters smaller than 1mm wide X 4mm high.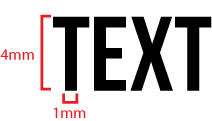 These minimums are to ensure optimum legibility. Otherwise we start seeing issues with letters "closing up" or looking crooked.
Note that these measurements are our absolute minimum, we recommend lettering that is at least 5MM or larger.
Text Spacing
Tracking is a term in graphic design for the amount of space between letters. While wide tracking looks fantastic in printed formats, due to the flexible nature of fabric it can head negative effects on embroidery.
We recommend against Wide Tracking between individual letters in your logo.

Wide tracking can lead to the letters coming out crooked, as the fabric has more room to shift between each character as it is being embroidered. For the most consistent results, we strongly recommend designing your text so that there is limited tracking.
Color Matching

To ensure the closest color match, we offer a wide selection of quality Isacord embroidery thread to choose from.
We are able to using Pantone Color Matching System to find the best thread colors available for your logo.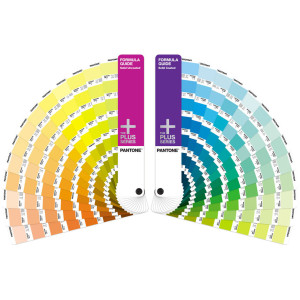 As we do not have a thread color for every single Pantone color that exists, we may not be able to provide an exact match.
Color Fades/Gradients
A color gradient is when one color blends smoothly into another.
We are only able to embroider gradients over large areas, and will need to reduce it to 2-3 colors.

Printed gradients rely on dozens of colors for the smoothest optical transition, so an embroidered gradient will have a different look. We are unable to use gradients in areas under 1″.
If your design relies on gradients and shading, we recommend looking into Heat Transfers instead.