DTG Printing inks are slightly transparent, so in some cases we will print a layer of white ink underneath the colored inks to make sure they pop. Printing either with or without white can create different looks, so read below for more information on the differences.
Printing Without White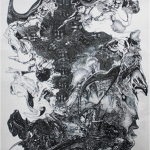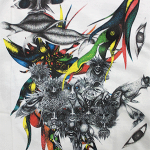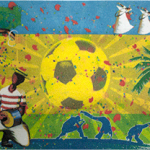 Our colored inks have no texture, so when we print on a white or light-colored fabric your design has the soft, natural feel of the fabric below. When printing on a colored shirt, the inks are slightly transparent so you will be able to see the shirt color come through your design.
This lends itself to printing black designs, or if you are trying to achieve a Tone-On-Tone look.
All of these swatches feature the same color chart, printed on different fabric.
Printing With White
If your apparel is dark, we first print a base layer of white ink before printing the colors on top. This prevents the color of the shirt from showing through, and makes your design really pop!
The white inks have a thicker, somewhat rubbery texture. However, the prints will not be as thick as Plastisol ink from Screen Printing.
We recommend this process if you have any white in your design, or if you want a colorful design on bright t-shirts.
This is the same swatch as the above section, printed with white.