Screen Printing, or Silk-Screening, has been around for hundredsof years, and is one of the oldest methods of t-shirt printing. It also happens to remain one of the most cost-effective ways to produce big batches of apparel.
Screen Printed designs are bright, opaque, and will last for many years.
Most orders can be fulfilled within 10-15 business days.
Additional Information
We require a minimum of 24 items for Screen Printing
If you are interested in fewer than 24 items, please look into our Direct-to-Garment Printing.
Each color used requires a Set-Up Fee (including white)
We have to set up a separate screen for each color used. This is counted per each design.
There are no fabric requirements
We are able to print on synthetic or polyester materials. If your fabric is extremely stretchy or mesh, we'd recommend looking into Heat Transfers.
Art Requirements
Preferred file formats: .AI, .PDF, or .EPS
We require artwork to be in Vector format.
If you do not have Vector artwork, we must charge a Vectorizing Fee to convert it for you.
You can read more about our Vectorizing services here at our Graphic Design page..
Color Matching:
If your artwork needs to be a specific color, we can use Pantone colors to ensure the closest match to our pre-mixed inks we're able to achieve. Please make a note of the PMS shades you need.
If we do not offer the exact shade of ink you need, we'd be happy to custom mix ink at an additional cost (48 pieces rec'd).
You can send us your artwork using our Request a Quote page.
How Screen Printing Works
Screen Printing, as it is so aptly named, involves squeegeeing ink through a fine silk screen directly onto the surface of a garment. The design is burned into the screen using photosensitive emulsion that reacts to UV light. The emulsion blocks parts of the screen so that the ink is pressed through in the shape of your design.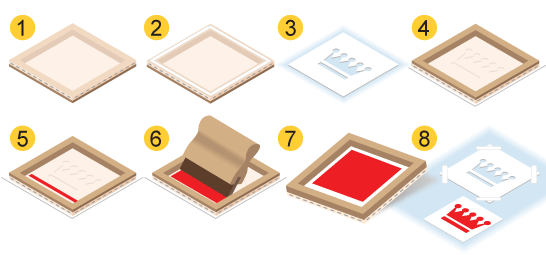 Each screen can only be used for one color, so if your design has multiple colors we must make a separate screen for each one. The separate screens are then applied in layers, starting with the lightest colors and ending with the darkest. When printing on dark garments, we apply an underbase of white to make sure all the colors pop. Registration marks are used to make sure each layer of the design aligns perfectly with the previous layer.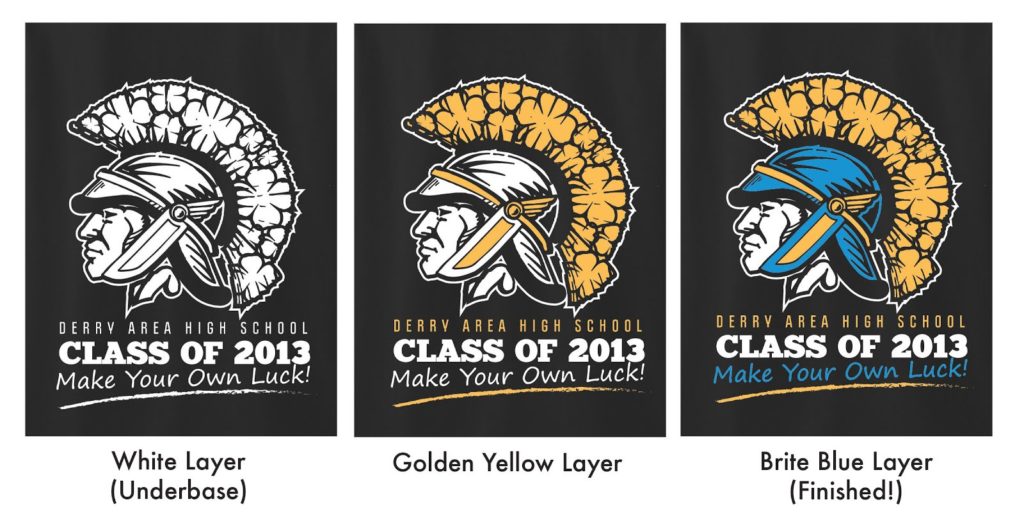 It is impossible to print a true gradient with screen printing due to limitations of the screens themselves. Only DTG Printing is capable of achieving a true gradient. We visually mimic the effect using the same method that newspapers use to print colors called Halftones. These are small dots that give the appearance of the color fading out.